If you're involved in manufacturing automotive components like pumps, transmissions, crankshafts and valve bodies, it won't come as a surprise when we say that the Sumitomo MDW-XHV Deep Hole Carbide Drill is a top-notch tool. When it comes to going deep with a diameter of 1/8" to 3/4", this solid carbide coolant thru drill usually gets the call. Why is that?
Deep Hole Drilling
Here's some facts. The MDW-XHV has a new flute shape designed for improved chip evacuation when going deep. It provides high-efficiency to depths of over 30 times drill diameter. Its double margin design lets you travel right down to the maximum hole depth without instability.
Dan Habben, Applications Engineer for Sumitomo, appreciates the MDW-XHV because you can "push them hard and fast." In training sessions for customers and distributors, he likes to take a solid block of 4140 alloy steel on a Mazak VMC with a 40hp spindle and crank the feeds and speeds up to 500sf per minute/0.014 inch per revolution/ 70 IPM and "blow their minds."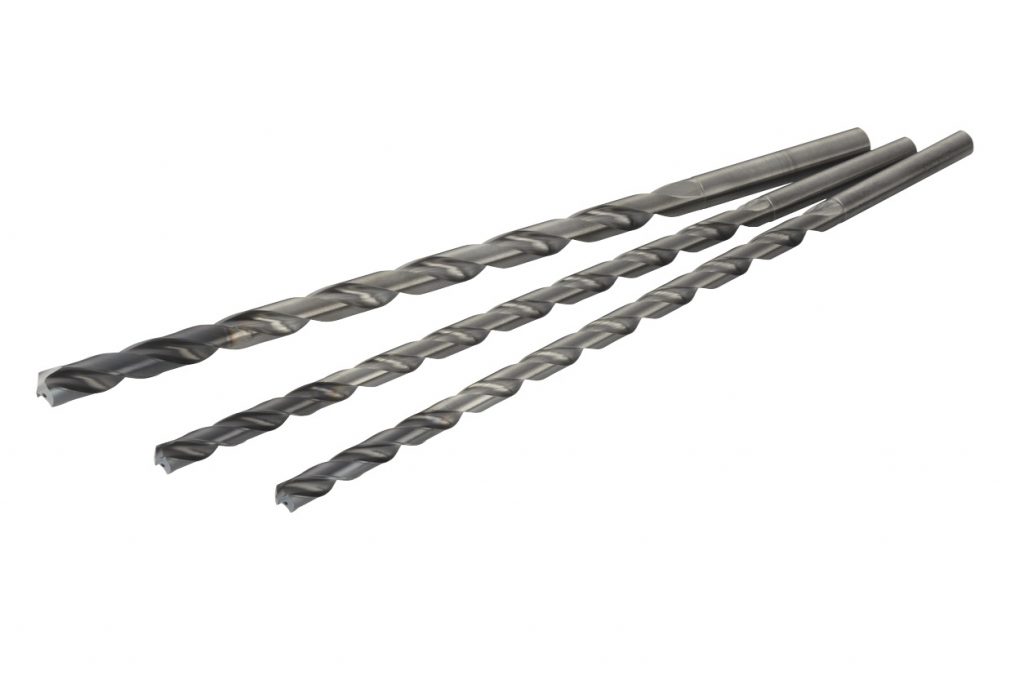 Long Tool Life
While you might think such treatment would cause the MDW-XHV to suffer an early demise, this tough tool, made out of Sumitomo's proprietary carbide coated with a special DEX coating, enjoys a long tool life in a variety of work material. "We make our own carbide and do our own coating, so we know what goes into our drills," Dan said.
The DEX coating is made from a unique nano-coating technology made specially for drills to achieve more than double the tool life of conventional coatings. We don't want to give away all our secrets, but adding silicon and chrome drastically improves the wear, thermal and adhesion resistance. A newly developed composite super multi-layered structure significantly improves chipping resistance (coating strength) as well. Dan says the DEX coating works in aluminum, too.
Another secret we can share is that the drills are polished after coating. "This knocks down the high points on the coating and makes it more slippery so the material being cut can't adhere to it," Dan asserted. "And you can grind and re-coat the MDW-XHV up to four times, which makes it pretty economical."
Eco-friendly
The MDW-XHV is designed to work with normal coolant, but it is also compatible with the MQL (Minimum Quantity Lubrication) system. MQL was popular 15 years ago, but it's making a comeback due to the environmental concerns of coolant waste in the automotive industry. With MQL, the coolant is atomized as an oil/air mixture and then flows thru the tool. The main concern is the size of the coolant hole and the configuration at the back of drill so that the oil/air mix does not coagulate inside the tool, restricting MQL flow.
"Although it's less expensive than running standard coolant, MQL sometimes does not offer proper chip evacuation, so it's very application specific," Dan confirmed. "For example, our latest inquiry was for a diesel head component where they use MQL on a 12x feed drill. Be sure to check with your Sumitomo distributor for your particular application."
In closing,Dan offered the following final advice, "If you would like to see the MDW-XHV put through its paces and see the value for yourself, please contact us for a consultation."